Wondershare MobileTrans review: move files between smartphones with ease
3

This story is sponsored by Wondershare. PhoneArena's opinions in this article have not been affected in any way!

We've said it before and we'll say it again – technology is advancing at a rapid pace. No, we don't have lightsabers, we can't teleport ourselves, and our cars can't fly yet, but we do have virtual reality goggles, we do have 3D printers, and self-lacing Nikes are due for a launch before 2015's end. Our smartphones have evolved quite a bit as well.
The thing about smartphones, however, is that newer and better models are being announced all the time, and a phone that you buy today will most likely become outdated within a couple of years. And then you'll probably get a new one. And then you'll probably want to move all your data – contacts, texts, photos, and media – to your new handset.
Enter Wondershare MobileTrans
Wondershare MobileTrans is an application built with that exact purpose. It allows users to effortlessly migrate to a new smartphone and transfer all their information along the way. It is compatible with Android, including the upcoming Android M update, and the new iOS 9 operating system. BlackBerry and Symbian handsets are also supported, and Windows Phone compatibility is already in the works (should come by the end of this month). In addition, Wondershare's software enables the easy creation of back-ups of data stored on smartphones. Sounds promising, so let's take a look at how the app works.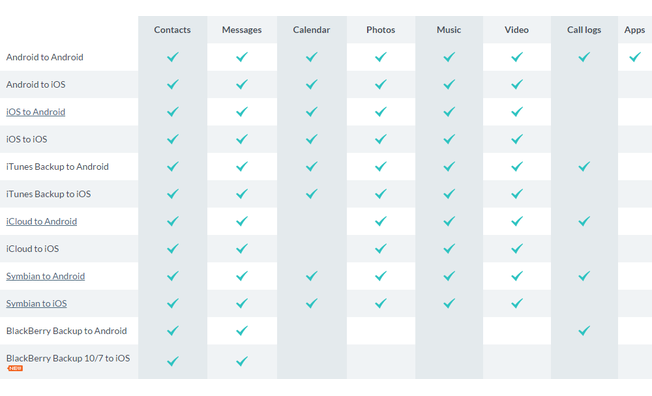 Firstly, we should clarify that Wondershare MobileTrans is a computer application, available on Windows and Mac. Given the software's modest hardware requirements and OS versions support, we'd expect it to run on most computers purchased within the last decade or so. For the purpose of this review, however, we'll be using a licensed Windows variant of the app, installed on a fairly modern Windows 7 PC, powered by a Core i5 CPU with 8GB of RAM and a 128GB SSD.
The entire setup process of Wondershare MobileTrans was complete within a few minutes. Downloading the installation package from Wondershare's website took us only a brief moment, and installing the software after that was a matter of hitting "Next" a few times. Registering the product was a quick and easy process, and at the end, the entire application was occupying no more than 100MB of disk space. So far so good.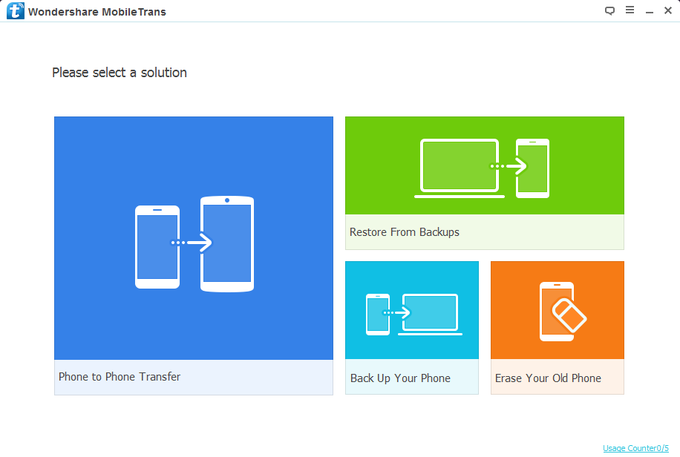 Let's get those files moving
We were greeted by a clean and user-friendly UI after launching Wondershare MobileTrans for the first time. The main menu presented us with options to transfer data between phones, to create or restore a backup, or to wipe the information stored on a mobile device. We decided to try the app's data transferring abilities first, so we chose that option from the main menu.
Once in the data transfer menu, we were invited to connect our devices via USB. Now, moving data from one Android phone to another isn't much of a hassle. Copying files from one iPhone to another isn't difficult either. But making these two very different operating systems talk to each other is quite a bit trickier. That's why our "guinea pig" handsets of choice were an
iPhone 6
and an LG G4 Android smartphone.
After hooking up the iPhone to our computer, it was instantly detected by MobileTrans (although those who don't have iTunes will probably have to install it). Connecting our LG G4, on the other hand, required a few extra steps. For starters, we were required to enable USB debugging mode on it so that MobileTrans could access data unrestricted. Thankfully, clear, step-by-step instructions as to how to enable USB debugging are given for inexperienced users. After the mode was enabled, MobileTrans automatically downloaded additional USB drivers for our Android handset. In a few moments, our Android handset was ready for use with MobileTrans. This whole process took about 10 minutes and a couple of retries.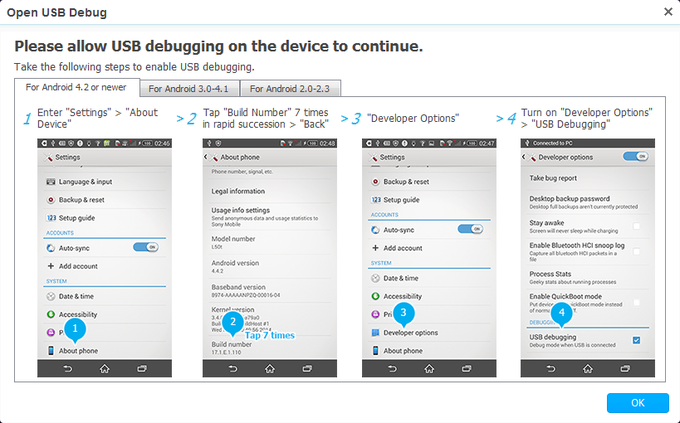 We must point out that a Wondershare application called MobileGo had to be installed on our Android device during the setup process. In a nutshell it is an "optimizer" app that clears RAM, blocks auto-starting apps, deletes bulk files, and all that. And we're not particularly fond of this kind of apps as they might actually do more harm than good. Yet MobileTrans' functionality partially depends on this MobileGo application, as it allows texts to be imported. Thankfully, the app can be safely uninstalled after one is done using MobileTrans.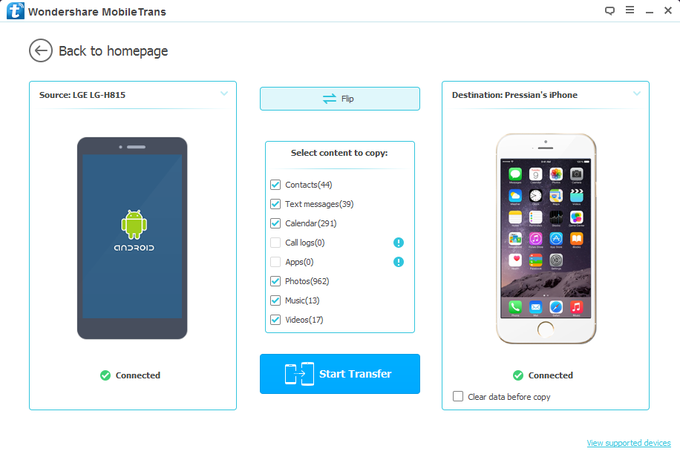 So, we were now ready to move some data. It is convenient that MobileTrans lets you switch source and destination phones with a simple press of a button. It is also great that we can pick what data categories are to be moved – contacts, text messages, calendar entries, call logs, apps, photos, music, and video. What's not cool, however, is that we can't pick individual files of a certain category. For example, you can't move only some of your photos or music – it has to be either your entire library, or nothing at all. Anyway, we hit the "Start Transfer" button, and our data began moving. We must note that apps and call logs can't be transferred to an iPhone at this time.
In this particular case, Wondershare MobileTrans worked as expected. It successfully moved the data from an Android phone to an iPhone, including our contacts, text messages, images, and music. Also, we could easily transfer data the other way around, from our iPhone to our Android phone. This time around, we could move our call logs as well.
Dealing with apps, however, could be a bit tricky. Due to compatibility issues, you can't move Android apps to an iPhone or the other way around. You
can
move apps from one Android device to another, but there's a catch. Since the app data itself isn't moved, your game saves, for example, won't be available. Some apps might even fail to run. Wondershare is already working on resolving the issue with an update that is to be released by the end of October.
Data backups and data restoring
As we mentioned above, data backup is another useful feature of Wondershare MobileTrans. The process of backing up data is simple and straightforward – you connect your smartphone to your computer, choose the data categories you need backed up, and hit a big blue "Start Transfer" button. The software takes care of the rest. If you need to, you can restore a backup at a later time in a few easy steps. Furthermore, you may import data stored in your iTunes, iCloud, or BlackBerry databases, in case you're using these services.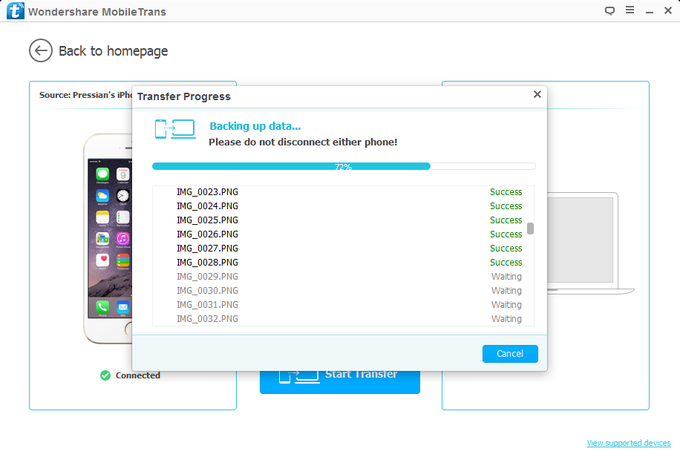 However, there's one or two very important things you should keep in mind. Regarding back-ups, MobileTrans only saves specific kinds of data. It won't save your wallpaper, your app shortcuts and folders, or the layout of your home screen. On iOS, it won't back up your apps, and on Android, app and game data won't be stored, meaning that your existing game saves will be lost. As a matter of fact, some games may fail to run completely after being restored, as was the case for us with Angry Birds 2. This should be resolved in a future update, scheduled to be released by the end of October.
In addition, backing up and restoring data can be a time-consuming process. The more stuff you have on your handset, the longer the procedure is going to take for all the files to be copied. Our 16GB LG G4, for example, took about 45 minutes to restore from an 8.6GB database.
Conclusion
Wondershare MobileTrans is great for transferring data between smartphones. It is one of the few pieces of software that can move your call logs and text messages from one handset to another. Plus, the app is mostly easy to set up, it is straightforward to use, and its UI is extremely user-friendly. Better yet, we encountered no issues while moving data between different operating systems – from an Android phone to an iPhone, and vice versa. And the software will be made even more capable in the near future with the addition of Windows 10 support.
The backup feature, however, needs more work. Yes, we could easily make safe copies of our contacts, texts, call logs, and media, but the missing support for app data backup is disappointing. Given the asking price for Wondershare MobileTrans, we were expecting to see more.
| | |
| --- | --- |
| Developer: Wondershare | Download: Windows/Mac |
| Category: Tools | Price: from $39.95 for Windows, from $19.95 for Mac (Free demo version available) |
Pros
Clean and simple interface
Easy to set up
Modest hardware requirements
Supports iOS 9 & Android M; Win 10 support coming
Cons
Expensive
Windows Phone not supported yet
App data on Android can't be saved yet
Installs an additional app on Android phones