Windows Phone 8 "Apollo" reference ironically appears in the I'm WP7 app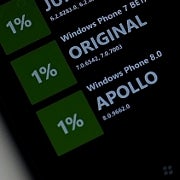 We told you the other day about
Windows Phone 8 browser stats appearing on Hitlinks
, not to mention the
Nokia poster template
we were sent which had the thing written front and center.
Now a reference to Windows Phone 8 has appeared in the "I'm a WP7!" app, for the sake of irony. The app statistics show that a Windows Phone 8 "Apollo" build 8.0.9662.0 is running somewhere in the Wild West of Redmond, so all points hint at advanced stages of internal testing for the newest Microsoft mobile OS version.
t's running from an Emulator, doesn't appear to be spoofed, is using the default Emulator location, and the Time Zone Offset lines up with Pacific Coast…
", hinting that Microsoft is already running app compatibility tests with titles from the Marketplace.