Windows 8.1 could scale for a 10.6" 2560x1440 tablet, as well as a 1920x1200 7-incher
8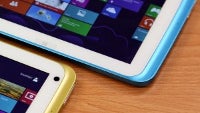 Not that it comes as a huge surprise given he new scaling abilities built into Windows, but Microsoft will be supporting high-res 10" and 7" tablets with Windows 8.1, judging from a dev presentation shown during the Build conference workshops.
In the list were a 10.6" screen, or the size of the
Surface Pro
, for instance, with 2560 x 1440 pixels of resolution, which is still a tad lower than the pixel density of the
Nexus 10
tablet.
The other notable additions were a 7" 1920 x 1200 panel, and a 7.5-incher sporting 1440 x 1080 pixels of resolution. We saw a proof of concept
7" quad-core Bay Trail slate running Windows
to get demoed at the Computex expo not long ago, but whether OEMs will decide to bust out small Win 8.1 tablets with the ultra high pixel density mentioned, remains to be seen.