Will Verizon launch the Samsung Strut?
5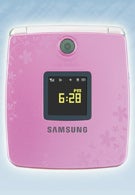 The QWERTY clamshell
Samsung Strut
is targeted at ladies and is basically the Big Red version of the Gloss, currently
available thorough U.S. Cellular
, also known as the Cleo. However, we haven't heard anything about this one for quite some time. But now, according to an Engadget tipster, some accessories have begun to fly around, listing the Strut as a compatible device. Moreover, the Strut's firmware is said to have been in Verizon's system for a whole year now, which mean the carrier would either launch the phone real soon, or not launch it at all. So, if you're interested, you can learn more details on this wireless beast through the specs link below.
Samsung Strut Specifications
source:
EngadgetMobile