WiFi hotspot police at the Olympics looking to seek and destroy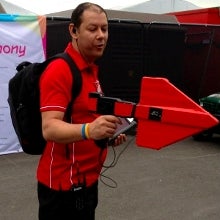 This Olympics season is definitely shaping up to be the first with the "broadband syndrome", since NBC and the others decided to stream everything live via the Internet, and as a result the networks were pushed to their limits.
"How's they gonna get me", you ask? Well, a WiFi hotspot police is apparently making the rounds at the games, equipped with the thingamajig you see in the picture, trying to locate and shoot down everyone who is peddling their carrier data connection around. True story.