Why we have a love/hate relationship with our smartphones (comic)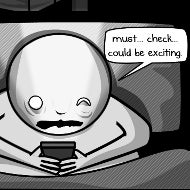 The brilliant gals and guys over at The Oatmeal are at it again, breaking down the reasons with oftentimes love and hate our smartphones simultaneously.
Those tiny inventions often get on our nerves just because they keep us switched on and connected at all times, but on the other hand they are great at many things, including help with socially awkward situations, allude the comic's authors.
Fanboy wars and petty frustration with app loading times, as well as the know-it-alls we've become in the last few years thanks to our smartphones - these trends all find their place in the comic slideshow below. Enjoy.