Who wants a free Galaxy Nexus? All of us. Who's getting it? Google employees.
7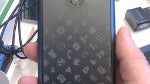 In what seems to be a very cool form of a Christmas gift, Google is handing out a special edition of the
Samsung Galaxy Nexus
to its team. For now, it's confirmed that employees working at the company's London and Zurich offices are going to receive the handset, but we presume that other locations will benefit as well.
So, what's so special about this Galaxy Nexus? Don't get your hopes high for a beefed-up version of the phone popping up on eBay. The only thing that's different compared to the "standard" edition of the handset is its back cover, which has some Android and Google+ icons drawn on it. Still pretty cool, right?
You can check some images below, courtesy of Edu Pereda - a Software Engineer at Google, who's probably a very happy man right now.
via
TheVerge