White BlackBerry Curve 8900 for AT&T?
This article contains unofficial information.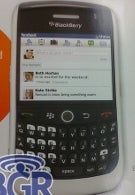 Remember
that white version of the BlackBerry Bold? AT&T and RIM are about to turn another BlackBerry as white as if it had seen Casper-this time the Curve 8900. One of BGR's "connects" sent them a picture of what would appear to be an ad for the white 8900. If RIM starts doing this to all of the devices it releases, they can change the product name to WhiteBerry. Anyway, no launch date info apparently came with the picture, but if the ad is ready, well the phone can't be too far behind. Does the lack of color make the phone more appealing to you?
RIM BlackBerry Curve 8900 Specifications
|
Review
source:
BGR