WhatsApp exec says there are no sale talks with Google
10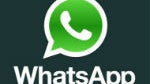 If you thought that the
rumors of Google purchasing WhatsApp
for $1 billion sounded too good to be true, you were right. A WhatsApp executive has told AllThingsD that not only is the company going to be sold to Google, but the two companies aren't even talking about a possible deal.
Neeraj Arora, WhatsApp's business development head, told AllThingsD that there are no talks at all between the two companies. Unfortunately, Neeraj wouldn't expand any further on the subject.
The original rumor claimed that the two companies were in the negotiating phase, and had been talking for four to five weeks about a deal. The rumor also said that WhatsApp was "playing hardball" and trying to push for a higher price.