What's up with Martin? Scorsese recruited for a new Siri commercial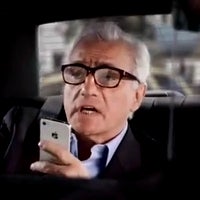 If you thought the director of "Taxi Driver" and "Goodfellas" would have no use for starring in a Siri commercial, you thought wrong. None other but Martin Scorsese has been recruited for the new Apple voice assistant ad, trying to show how the iPhone manages his hectic schedule for him in a stint called "Busy day".
The ad takes place in New York City, and in one fell swoop Siri helps reschedule his appointments, tells him that's not Rick he sees walking down the street via the Find My Friends feature, and advises a seasoned NYC cabbie what route to take to avoid the traffic gridlock ahead.
Martin's iconic eyebrows couldn't be more pleased to be shown off one more time for the world to see, and his bank account couldn't be more pleased they did.