What to do with an iPad and annoying younger brother
5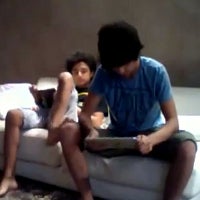 Everyone who has kids knows that only in the movies are they generous and helping to each other. In the vast majority of times, it's "Dad, John hit/slapped/kicked/locked me in the bathroom". And that's double true when you have boys.
The age-old sibling rivalry seems to have taken new dimensions in this modern day, and has received new tools for inflicting bodily harm on your annoying brother or sister.
Watch the video below where the older brother rocks it New Age in the ancient art of surviving siblings and other small animals. No iPads have been hurt in the making of this clip.