Watch the entire Asus keynote at Computex to immerse in the wacky world of Windows 8 hybrids
5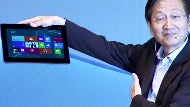 Asus made a splash this year at Computex with its wacky Windows 8 hybrid devices design, and it was a show where it 's hard to be surprised among the plethora of swiveling, dual-screen and detachable Win 8 gear.
The company took a page directly from its Transformer Android tablets book, and introduced the
Asus Tablet 600
hybrid tablet/notebook combo, along with the dual-screen laptop Taichi, and the
detachable 18.4" all-in-one
that runs both Win 8 and Android.
Now Asus has posted the whole announcement ceremony online, so you can watch how CEO Jonney Shih enthusiastically presents the new Win 8 gear. Word to the wise - he doesn't spare his vocal cords.