Watch the HTC EVO 4G LTE launch event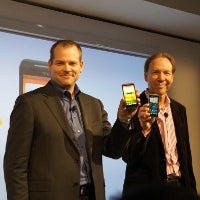 The
HTC EVO 4G LTE
pushed our nostalgia buttons in a big way, remembering the excellent original EVO. It's a worthy successor with all the contemporary bells&whistles like multicore chipset, HD display, ultra-fast camera and even HD voice, so we can't complain.
We recorded the whole launch event for you, and there is plenty to see - from CEO Dan Hesse's charismatic stage performance, to HTC delving into the minute details of its chassis-making process.
The video is about half an hour long, and gives you a unique peek at how these events go, and relays all the excitement around the launch of Sprint's flagship 4G handset with the iconic EVO branding.