Watch how Cortana stacks up to Google Voice and Siri in this 50-phrase demo video
79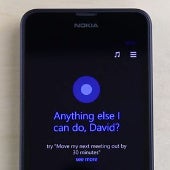 After the
50 Google Now
and
50 Siri
questions, now comes the time for Microsoft's voice-activated virtual assistant
Cortana
to shine. Coming with Windows Phone 8.1 handsets in a limited beta availability (US, UK and China for now), Cortana proves to be a rather capable voice assistant, rivaling Google Now and Siri.
That's undoubtedly thanks to Microsoft's multi-year research in the field of voice recognition, artificial intelligence, and
direct translation
, but don't take our word for it, see for yourself in the video below. We've also included the 50-phrase Google Now and Siri videos for direct comparison.