Watch how CM10 behaves on the Samsung Galaxy S III compared to Jelly Bean on the Galaxy Nexus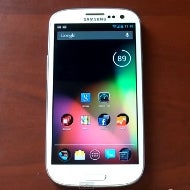 The
CyanogenMod 10 work for the Samsung Galaxy S III is firing on all cylinders
, with only a few features that need polishing still, so it will be a race with time whether
Samsung
or the CM crew will come up with a fully functional Jelly Bean for Android's finest.
If you want to see how Android 4.1 with Project Butter, as well as the new Google Voice Search and Google Now look and behave on the Galaxy S III right now, hit the video play button below.
Here the quad-core SGS III nightly CM10 build gets compared to a
Samsung Galaxy Nexus
running the Jelly Bean update. On the Galaxy S III things behave even more fluid, since it has more powerful silicon inside, but native features like swiping form the bottom to launch Google Now, are replaced with simple shortcuts on the home screen, for example.