Watch as the BlackBerry Storm 2 9550 browses on Wi-Fi
This article contains unofficial information.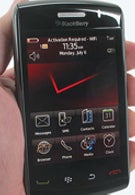 A video about the BlackBerry Storm 2 has appeared from someone not named Salomondrin. This video shows the 9550 as it browses the internet using a Wi-Fi connection. We do see some improvements in scrolling, and Wi-Fi load speeds are going to be faster than 3G times. But for some reason, the person behind the camera has decided to test out the browser on mobile sites instead of full desktop pages. He does say that the Storm 2's browser favors mobile sites, but then again, most mobile browsers do. A real test would be to go to the Internet Explorer setting on the Storm's web browser and see how fast the full desktop sites for the New York Times, ESPN and the National Geographic load up. On the positive side, the SurePress typing appeared to be responsive and smooth.
RIM BlackBerry Storm 2 9550 Preliminary Specifications
|
Preview
source:
BerryReporter