Watch Google livestream its Android/Nexus 7 event here
1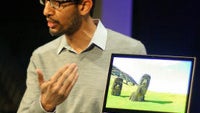 Google is streaming its 'breakfast with Sundar Pichai' event on YouTube and you can follow it live right now. The Mountain View company is expected to officially unveil the second generation Nexus 7, and probably speak about Android 4.3 and why not even more.
The event is pitched as a simple breakfast with Chrome and Android leader Sundar Pichai so anything new in his wide outreach is possible.
As to the new Nexus 7, we already have it up for pre-order on Best Buy. It stands out with its super sharp 1920 x 1200 pixel 7-inch display and unlike its predecessor it uses a Qualcomm Snapdragon chip. It's also thinner and lighter.
The livestream is live, so make sure to tune in by hitting the link right below: