Want fries with that? Grilled Xperia Z3 burger is real (video)
15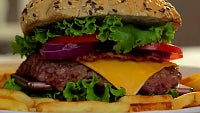 Sony's new
Xperia Z3
must be the most tortured flagship this side of rugged Androids, as it's already been dunked, frozen,
used as a peanut butter sandwich
, and whatnot. Nobody had made a burger with it, though.
Until now. Not only does the Xperia Z3 get used as a cheese strip, grilled, set on fire, and even served in a glass of wine, but it actually survived the whole ordeal, which is pretty amazing.
Oh, yes, you can apparently also use bacon to operate the touchscreen in its super sensitive mode, which is actually meant for the ski lift, when you have your gloves on. Fun times.