Wal-Mart ad says that the iPhones comes in three days
This article contains unofficial information.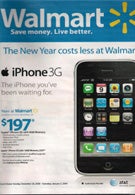 If the copy of a Wal-Mart ad circulating the internet is real, the "huge discounter" will be offering both the 8 GB and the 16 GB iPhone models at selected stores and some Sam's Club stores beginning December 28th. While not as steep as the $10 discount currently offered at Best Buy, you will be saving $2 compared to the price at AT&T and through Apple. That works out to $197 for the 8 GB and $297 for the 16 GB models, with a new two year contract.
Oh yeah, if you want to buy your iPhone through Wal-Mart, you will need to go to the store. The phone is not being offered online.
via:
PhoneNews