WWDC as it really is (comic)
12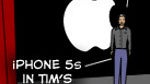 WWDC is just hours away from its start and while we're all waiting for iOS 6, Retina display Macs and if possible pure magic by Apple, here's a neat pictorial summary of what the event will actually look like.
Sure, those retinal Macs will be there, but did you expect the
"Guardian of forever"
time portal Mac? And did you know that the Moscone center event only seems to have sold off while Apple actually put up false walls to hide the empty seats? And finally, of course, Samsung spies at the event will be given a separate presentation by a holographic Tim Cook.
Yup, it's all true, in the latest Joy of Tech comic. Check it out below to learn all the minute details about the upcoming WWDC!