WP8 companion app for Windows coming to replace Zune, sports that Modern UI
10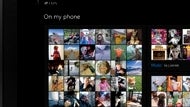 In
late October, when Windows Phone 8 hits
, Microsoft will unveil a companion app for the handsets running it, that will allow you to manage your phone's content, replacing the Zune desktop software in the process, say sources.
The app has that Modern UI look with different size of tiles and minimalistic fonts, that we are used to in WP and Windows 8, so it will be a looker, but whether you will always need to fire it up to do anything with the phone, like it is the case with Zune now, is still unclear.
Rumors are that
Windows Phone 8 will include mass storage mode
, so you don't have to, but Microsoft is keeping the upcoming features so deep under wraps, and in unprecedented even for OEMs secrecy with their prototypes, that we will know for sure at the official unveiling.