Vodafone and Telefónica shake hands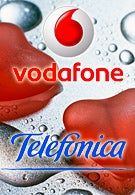 When two giants shake hands we often wonder what the final result will be. The collaboration of two of the world's largest carriers, Vodafone and Telefónica, aims at providing better services in selected European countries. To achieve it, the two companies will share mobile network assets, provide transmission services and build new sites. The cooperation is expected to deliver significant benefits, including costs savings of hundreds of millions pounds for both companies over the next ten years.
The customers should get better signal quality and mobile broadband across a wider coverage area at lower network operating costs. Reducing the number of sites needed by each company will be good for the environment; however, they will build new ones where this is possible. For now, the countries that will benefit are Germany, Ireland, Spain and UK.
source:
the::unwired