Vodafone K.K. releases compact TV Viewing phone in Japan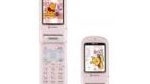 Tokyo - Vodafone K.K. annouced it will release the V402SH phone which features an analog TV tuner. The V402SH features a 180 degree reversible "Swivel Style" LCD screen that allows customers to watch TV broadcasts even while the handset is closed. In addition, the V402SH comes with an embedded mobile camera that can capture 1.30 effective megapixels, and photos can be taken in digital camera style by reversing the LCD screen to use it as a large viewfinder.
V402SH features:
- 180 degree Swivel style LCD screen
- 265k color 2.2 inch QVGA LCD Display for TV Viewing (capable of displaying 30 frames per second)
- 1.3M pixels SXGA camera (960 x 1280 pixel) with 8x digital zoom
- Built-in Analog TV Tuner
- FM Radio
- 40 voice polyphonic ringtones
- Speakerphone
- 8MB shared memory
- SD card slot
V402SH will be available July 24, 2004 in Japan.