Visual Voicemail download for the BlackBerry Tour2 live, launch time soon?
0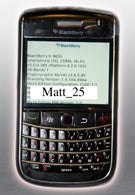 Social networking sites can be
sources of great information
we tell you, and here's the latest bit of phone-related news we came across: a Twitter user has posted a link, which leads to the Visual Voicemail download for the Verizon
RIM BlackBerry Tour2 9650
(
aka Essex
). The link works and we already downloaded the .jad file successfully! Now where's the Tour2 itself we wonder? Hope it is close to prime time, but we can never be sure, as it is unclear if this link has popped up now, or has been up there for quite some time. Anyways, we'll live and see.
RIM BlackBerry Tour2 9650 Preliminary Specifications
via:
BerryScoop