View flash based content on your iOS device with Skyfire's VideoQ
25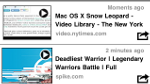 For those iOS users who wish that Steve Jobs was a little more open minded toward Adobe Flash, Skyfire is offering an app that will let you
view Flash content aimed for Safari, Opera and other unsupported mobile browsers
. Called VideoQ, the app works quite simply. Send the URL of the flash content you want to play to your VideoQ account. Open the VideoQ app and the flash content will play previously unviewable content from over 1 million sites.
It's all part of a grand scheme to make VideoQ a repository of flash videos to share and save. Instead of having to go from site to site, open up VideoQ to see According to Skyfire,
the video is optimized by the app in order to keep data use down
. The app saves 75% of bandwidth while streaming video. VideoQ is available from the App Store for $1.99.
source:
Skyfire