Videos of RIM's Blackberry Pearl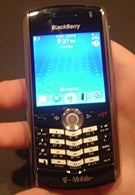 RIM's Blackberry 8100 can now be seen in action as the Boy Genius has taken some videos of the device. It is a quad-band GSM phone and is the first Blackberry to feature a camera, SD cards slot and multimedia playback capabilities.
To watch the videos of the Pearl click the link below.
Source:
EngadetMobile