Video shows Unboxing and much more of the HTC HD2
This article contains unofficial information.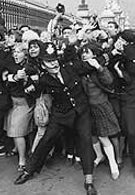 With it's massive 4.3 inch display, the 1GHz Snapdragon processor under the hood and powered by Windows Mobile 6.5, there is no mistaking the HTC HD2. The handset has produced Beatlemania type reactions from those who have seen the device in action, and those who have actually been able to touch one have had parts of their clothes ripped off by adoring cellphone fans. While it's no Hard Day's Night, the HTC HD2 has been taped during an unboxing. Just seeing the HD2 being showed off for a hardware tour is enough to make you feel light headed and weak in the knees as you reach for your wallet. The fab phone is
expected
to come to America to perform for T-Mobile customers, and you know that can't be bad.
HTC HD2 Specifications
source:
Slashgear