Video shows HTC HD2's compass function
This article contains unofficial information.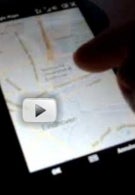 We keep getting requests for more HTC HD2 videos. It appears as though no one can get enough of this amazing device. Today, for example, the HTC HD2 will be the main guest on NBC's "Meet The Press", talking about the President's Health care bill. In the meantime, the phone paparazzi was able to take a video of the handset's compass functions and how it integrates with Google Maps to navigate. As WM Poweruser notes, HTC has not yet released any SDK's for the devices sensors which means that third party software using this function will have to wait until someone can figure out the code. A word to the wise: this video is a bit blurry and can cause sea sickness, so be careful when viewing.
HTC HD2 Specifications
source:
WMPoweruser