Vertu working on a 3G Signature phone?
This article contains unofficial information.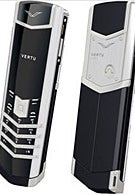 It seems that Nokia's luxury phones brand, Vertu, may be bringing its Signature line up to date with 3G support and Wi-Fi connectivity. Its design just screams Vertu with the chevron keypad, the etched "V" logos and beautiful craftsmanship. The new Signature device is rumored to have an OLED QVGA display, which will allow its screen to merge with the front side while inactive, but still retaining its visibility during usage.
via:
EngadgetMobile