Vertu prepares a new Signature S Design phone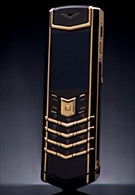 Nokia's luxury brand Vertu has a short trailer up on its website, showcasing the design of its new Signature S Design phone - "A Phone Without Equal". From information, courtesy of
the FCC
, we know that it will be a quad-band GSM/
EDGE
with 3G HSDPA (Vertu's first) on the 850/ 2100 MHz bands. It is also the first Vertu to have built-in Wi-Fi.
The availability of Wi-Fi is interesting. On one side, the vast majority of Nokia devices which have it also run on Symbian S60 smartphone OS, so Vertu may be preparing a smartphone! On the other hand, some non-smart Nokia phones (like the 6301 for example) also have Wi-Fi as they
support UMA
.
The trailer says that the Signature S Design is coming this October, so we can expect more details next month.