Verizon's map goes white in California as service goes down
This article contains unofficial information.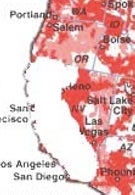 It might just be the result of some operations merging from Alltel into Verizon, but reports have been coming in from California, Wisconsin, Michigan and Ohio about Verizon's service having been down for hours. The carrier says that service should be fully restored in 6 to 8 hours, which takes us into Monday morning. If you are a Verizon customer in the affected area, how's this (not) working for you-how long has your cellular service been down?
source:
UpperMichigan'sSource
via
Engadget