Verizon's Samsung U700 and U900
This article contains unofficial information.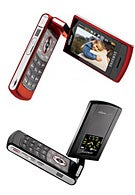 Several new photos of the
Samsung U700 Gleam and U900
made its way onto the web this past weekend.The SCH-U700 will be the next Samsung phone to be released by Verizon, followed by the U900 later this year.Features on the U700 include a 2MP Camera, QVGA Internal Display,MicroSD, front touch-sensitive music controls, and newer FlashUIthemes.The U700 is expected to be released between September and October.
If you are looking for phone with a little more punch, then expect the U900 to be out by the end of the year.The SCH-U900 replaces the current A900, and features an updated appearance, 3MP Autofocus Camera with Flash, Automatic lens cover, stereo speakers, Rotating QVGA Display, front touch-sensitive music controls, MicroSD, and newer FlashUI themes.The U900 is expected to be available in black and red finishes.
Thanks Omie!