Verizon to launch messaging Samsung SCH-U740 phone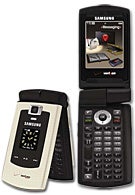 We've showed you the first unofficial spy photos of the SCH-U710 about 20 days ago, and revealed the mystery of the messaging dual-hinged clamshell Samsung prepares as a rival of LG's VX9900 enV.
We now received information that Verizon will rename the phone to U740 but the device is the same in hardware. Unfortunately the information shows that it is not really a high-end device, and that its display has small 176x220 pixels resolution and the camera is only 1.3-megapixel, not 2 or 3 as it was rumored.
The phone is expected to be available for orders on 4 December, 2006. At the same time, the carrier should also launch the LG VX-9900 enV.