Verizon to get the Casio C751 as a new G'zOne model
This article contains unofficial information.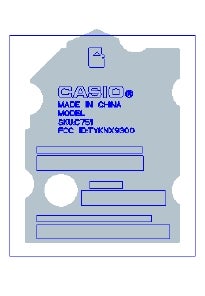 G'zOne Rock C731
to the
G'zOne Brigade C741
, Casio has been know for their rugged PTT devices for Verizon Wireless that are built to MIL 810F standards to resistant water, salt, humidity, shock impact, temperature extremes, high altitude, and even solar radiation. Now on the FCC site is the next iteration, the Casio C751. From the rear drawing, it appears that the Casio C751 may be another flip phone, similar to the G'zOne Rock C731, but without an actual photo of the device, we can't say for certain. All that is listed on the FCC site for the Casio C751 is that it supports PTT over EVDO Rev A, and features a camera, Bluetooth, MP3 player, and digital compass.
Casio G'zOne Brigade C741 Review
|
Specification
Casio G'zOne Rock C731 Review
|
Specifications
source:
FCC