Verizon launches Nokia 6315i
0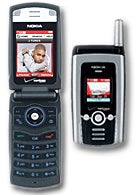 The 6315i is the second Nokia-branded phone by Pantech for Verizon, after
the launch
of the entry-level
6215i
last month. The Nokia 6315i is a dual-band CDMA device with EV-DO support in clamshell form-factor. It features a 262k color 176x220 pixels display,
1.3
megapixel camera with flash, external dedicated keys for the music player, microSD slot for memory expansion, speakerphone and Bluetooth connectivity.
The Nokia 6315i is currently available with Verizon at a price of $79.99 with a two-year contract.
Source:
VerizonWireless