Verizon launches LG VX8300 and Motorola V3m RAZR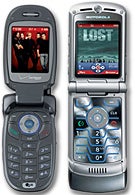 Both the VX8300 and the new RAZR V3m were showcased at the CTIA 2006 show in April this year. The VX8300 is the successor of the 8100 phone and packs music player with dedicated keys and expandable memory in grey-colored clamshell body. EV-DO, Bluetooth as well as two color displays and megapixel camera are some of its features. It goes for $50 with two-year contract and for $100 with one-year one.
The V3m is built on the platform of the V3c RAZR that is currently available with Verizon. The main difference is that it adds slot for memory expansion via microSD cards and some better music features. It will be available for $150 with two-year contract and $200 with one-year, while the V3c is going for $50 less.