Verizon ending BlackBerry BOGO promotion?
16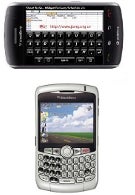 Verizon has ended its BOGO promotion for BlackBerry devices, according to some BGR tipsters. Big Red is replacing the promotion with a $50 price discount on the BlackBerry Storm and the BlackBerry Curve. That would bring the price of the first touchscreen BlackBerry down to $99.99 including a $70 online discount. Can you think of any other touchscreen device that recently was reduced in price to $99?
Because Verizon could not change or cancel all of the ads in place for the old promotion, the nation's largest cellular carrier is expected to honor the old promotion through June 27th.
source:
BGR