Verizon can't keep a secret: outs HTC One (M8) for Windows in promo video
14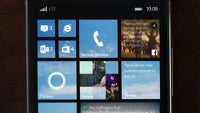 The HTC One (M8) for Windows is the second coming of HTC's flagship One (M8) that launched earlier in the year, and it has the same excellent craftsmanship of design and features like the 4-megapixel 'Ultrapixel' shooter and Duo Camera setup.
And now, Verizon Wireless, the carrier that is getting it exclusively, outed the handset a bit prematurely, publishing the full promo video with all new features of the upcoming handset.
The One (M8) for Windows comes with the same post-capture image refocus capabilities of UFocus inside the custom HTC camera app (that by the way has many of the great advanced features we've seen on the Android app). Rather than Google Now and Voice Search, though, here you are being kindly assisted by Microsoft's Cortana. Take a look for all the new features of the HTC One (M8) for Windows right below.