Verizon announces new line
53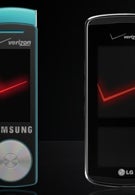 www.verizonwireless.com/next
page.
The site
has now changed
, showing all 4 Phones with Flash Animation.
At this time, all that you can do is view a little "blurb" about each phone and Sign Up for when the phones will be released, byentering you E-Mail address.
Earlier today
, we informed you of the Pre-Order and Release Date for each phone.
Please continue to visit PhoneArena.com for the latest information as it becomes available.