Verizon Wireless sets on CETECOM for LTE device testing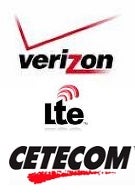 Verizon Wireless announced that it will be working with the independent testing and regulatory compliance lab CETECOM for the first time to certify devices on the carrier's upcoming 4G network. CETECOM will be making sure devices meet the minimum requirements to work on Verizon's Long Term Evolution (LTE) wireless data standard.
The process for companies who want to submit their LTE devices to CETECOM engineers for certification will be laid out at a later time. The carrier's LTE network is bound to use the Upper 700MHz C-spectrum, and is scheduled to be operational starting next year.
source:
Verizon Wireless