Verizon Wireless introduced Treo 600 Palm smartphone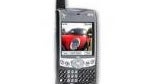 Verizon Wireless announced the availability of Treo 600 smartphone, along with new release of Wireless Sync, Verizon Wireless' always-on e-mail services powered by Intellisync.
Wireless Sync offers constant synchronization of customers' e-mail, calendar, contact list, tasks and more. Wireless Sync for the Treo 600 is an upgrade to Verizon Wireless' previous version and includes always-on functionality, inbox synchronization and the integration of up to three additional POP3 or IMAP e-mail accounts. The service is compatible with Microsoft Outlook and Lotus Notes.
Treo 600, a hybrid between a phone and PDA boasts a full QWERTY keyboard, Palm OS 5.0 and VGA color camera.
The Treo 600 is available for $449 with a two-year customer agreement.


Full Treo 600 specification and features are available at PhoneArena.com