Verizon Wireless CDM8975 available now?
This article contains unofficial information.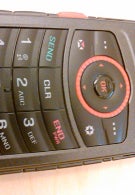 While not yet on Verizon's web site, sources say that Big Red is offering a new PTT model to business customers through telephone sales. The CD8975 is not the most multimedia capable phone you will see, but the clam shell device does have a nice red push-to-talk button with a microSD slot, dedicated buttons for mobile web/email, a 2.5mm audio jack, speakerphone button, and a voice dialing button. While not official, the model is expected to cost $149.99 with a new two-year contract. Hard hat is optional.