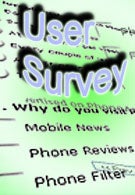 Dear Phone Arena visitors,
Keeping you informed with the latest news, hands-on previews and reviews of mobile phones and accessories has always been our top priority. In order to serve you better we have designed a quick survey to help us understand your needs and improve our performance. Please take a few minutes to complete the survey. Thanks to all!
START SURVEY
Official details:
• By submitting your ideas / suggestions to us, you hereby grant us and our affiliates, subsidiaries, licensees and assigns, an irrevocable, perpetual and royalty-free right to use, reproduce, edit, display, transmit, prepare derivative works of, modify, publish and otherwise make use of the submitted information in any and all media, whether now known or hereinafter created, throughout the world and for any purpose.
• All personal information will be kept private and will not be given out to third parties.