Update to YouTube's Android app includes support for VR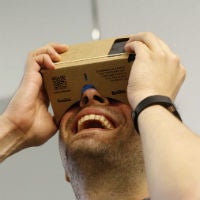 An update to the YouTube for Android app adds support for virtual reality video.
Using Google Cardboard along with the app
, users will get a feeling of immersion while watching any YouTube offering. Just keep in mind that some apps are more suited for VR than others.
A couple of demos released today includes one called The Hunger Games-Virtual Reality Experience. This clip will give you
"a sense of depth in every direction so you feel like you're actually there
." In today's announcement, Google says that the VR experience "
gives you a sense of depth as you look around in every direction. Near things look near, far things look far
."
You can order your own Google Cardboard from the Google Store. The latest version of the VR viewer was unveiled at I/O 2015, and now supports phones with screens as large as 6-inches.
source:
HungerGames
,
TOMS
via
TechCrunch