Unofficial Android 2.2 Froyo ROM for the HTC Desire looks pretty stable
This article contains unofficial information.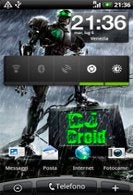 Nexus One owners are naturally soakingin all of the fun right now seeing that Froyo is now available for the taking, but one of its brothers just received an almost perfectport of Android 2.2. The Desire isn't a stranger when it comes toHTC's Android arsenal seeing that it closely follows the Nexus One inalmost every way. However, thanks to one xda-developers member, thereis an unofficial ROM available for the HTC Desire that brings onFroyo to the handset. So if you have a thing for being daring andahead of the curve, you can give it a shot and install the ROM –which you'll be surprised to find how usable and stable it runs onthe smartphone. Aside from some minor issues lurking around, thereare some enhancements like being able to shoot video in 720p that'llkeep you satisfied with the build.

HTC Desire Specifications | Review
source: xda-developers