UTStarcom Knick will launch as AT&T Quickfire
63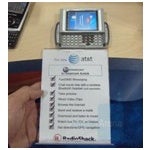 A previously
reported
device, UTStarcom's Knick, has been renamed as the Quickfire and the name sits well with the fact that it will bring the user an easy messaging experience.
The feature set will include a 1.3 megapixel camera, the ability to send/receive email, mobiTV, AT&T Navigator and a touch screen. The device will support quad-band frequencies for GSM/EDGE and dual-band for 3G.
The Sidekick look-a-like will be available in three colors: gray, orange and green. The price point is speculated to be $99.99 after a 2 year contract. It is expected to hit the stores late this month.
source:
EngadgetMobile