US variant of HTC Touch GSM appeared
2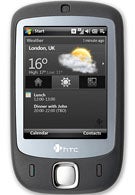 Although still not officiall announced, the US variant of the Touch GSM seems to come to the US, since it has been approved by the FCC. The Windows Mobile 6 smartphone will now support GSM 850/1800/1900 and have doubled memory. The 128MB ROM and 64MB RAM have been upgraded to, respectively 256MB ROM and 128MB RAM. All other features remain the unchanged.
Please check out
our review of the HTC Touch
for any additional info.