UPDATED:Motorola Sholes/Droid says to FCC, "Just passing through"
1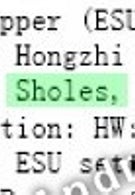 This article has been updated
The last time we
reported
to you that the FCC had approved the Motorola Droid/Sholes, it was the CDMA version that is about to hit Verizon Wireless. Now another handset (with a Sholes codename) has been approved by the Feds, using GSM technology. Unfortunately, it is destined for the European market as it is with European-only 3G at 900/2100 MHz.
Motorola Droid Preliminary Specifications
(CDMA)
source:
FCC
via
androphones