U940 branded as the Samsung Q-Ball for Verizon
24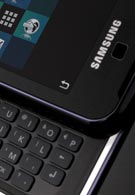 Samsung U940
for a potential Q1 release under the name "Q-Ball".
It is similar to the GSM F700 sold by Vodafone in Europe, as shown in
our preview.
However, there are some noticeable differences. The U940 has a 2MP camera (3MP on F700), and will have a different User Interface for Verizon integration. We are not sure that the Q-ball will be the name for the phone with Verizon, but the German Samsung site shows the GSM F700 as the Samsung Qbowl.
PhoneArena was the first to provide you with exclusive
images of the U940
last November.
source:
Engadget Mobile