Two new mass-market clamshell phones V260 and V265 announced by Motorola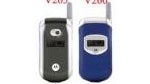 https://www.phonearena.com/
During BREW Developers Conference 2004, Motorola announced its latest BREW®-enabled CDMA handsets, models V260 and V265. Both devices feature MMS, BREW, speaker independed voice recognition, speakerphone and WAP 2.0. Motorola V265 also has VGA camera and the V260 supports interchangeable covers.
__
Check the full Motorola V265 specification here.
Motorola V260 features are here.

__
Both phones are expected to be available Q4 of 2004.
?
During